We're living through
tech history
; putting
humanity
into artificial intelligence; the case against
driverless
cars
; the impact of
second screens
on TV; what happens when
marketers
are too myopic; the best
Halloween costume
this year;
image-based shopping
gains traction; former
Facebook
employees talk; the best
streaming service
for your money; a debate about the
podcast bubble
; California enacts a
cybersecurity
law and restores
net neutrality
; the happiness factor of
Uber
drivers; how
Subway
increased foot traffic by 31 percent;
the purpose of life
in 10 words; finding America's
quietest spots
; plus the
podcast pick
of the week and more in the
You Can Say That Again edition
of
The Full Monty
for the week of October 1, 2018.
---
The Full Monty saves you time and makes you smarter by curating the essential business intelligence every week. Links are below
with commentary in italics
. Please
sign up for our email updates
to make sure you don't miss a thing. And check out
The Full Monty on Flipboard
.
Contents:
Announcements
Top Story
Speaking Engagements
Artificial Intelligence / Autonomous
Communications / Marketing / Business Strategy
Retail Apocalypse
Platforms
Media
Privacy / Security / Regulatory
Measurement / Analytics / Data
Mental Nourishment
Announcements
A reminder that in the weeks ahead, The Full Monty will be making a switch to a tiered subscription model. Some content will always be free, and the full version will be accessible via a reasonable monthly fee. I'd be grateful for any feedback you'd like to provide, from pricing to the model.

Scheduling note: we'll be off next week.


Top Story
History – and in this case, recent history – is repeating itself.
Once again, we've got a data breach from Facebook. It's a violation of privacy, of security, and most of all, of trust. Roll out the apology tour.
Facebook
has
lived by apology
. At what point does it become meaningless? It's like we're living in an abusive relationship and we can't help going back.
It doesn't help that a prominent investor like billionaire
Patrick Soon-Shiong
, the owner of the Los Angeles Times, calls social media
the "cancer of our time."
Meanwhile, we've got
Tim Berners-Lee
, the godfather of the Internet, working to decentralize the web and
take back power from the forces that have profited from centralizing it
.
Are we seeing a point of no return for some of these technology companies? Have consumers had enough?
Sadly, until there's a viable alternative, there's nothing we can do.
Thanks this week to
Gini Dietrich
,
Christopher Penn
,
Mitch Joel
,
Drew McLellan
,
Chris Poterala
,
Nick Westergaard
and
Jay Baer
.
And a special shout-out to
Jay Baer
and
Daniel Lemin
, whose book
Talk Triggers
, goes on sale today. It's all about the power of doing business in a way that gives customers something to talk about. And we all know about the power of
word of mouth
. Plus...
alpacas
!
I hand-curate all of the content you see below (plus other stories on Flipboard that don't make the newsletter). If you've got something you think I should see, @ me on
Twitter
,
Facebook
, or
email
.
Speaking Engagements
Always looking for recommendations for speaking engagements – including executive briefings / workshops and keynotes. Can I speak to your organization or at your event?
Feel free to contact me to discuss it.
Brandemonium in Cincinnati, October 3-4. BR18FRIEND gets you $100 off.
Pubcon in Las Vegas, October 16-18.
Now booking for 2019 for groups small and large. Check out my speaking page for more info.
Artificial Intelligence / Autonomous
The latest in AI, machine learning, bots, and blockchain,
mobility, and autonomous everything.
Aʀᴛɪꜰɪᴄɪᴀʟ Iɴᴛᴇʟʟɪɢᴇɴᴄᴇ / Mᴀᴄʜɪɴᴇ Lᴇᴀʀɴɪɴɢ
We're getting ever closer to The Jetsons...
Aᴜᴛᴏɴᴏᴍᴏᴜs / Mᴏʙɪʟɪᴛʏ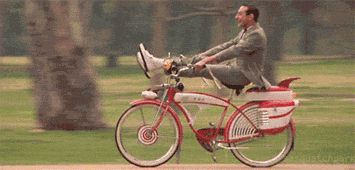 Industry developments and trends, including advertising & marketing, journalism, customer experience, content, and influencer relations.
Sᴛʀᴀᴛᴇɢʏ / Mᴀʀᴋᴇᴛɪɴɢ / Cᴏɴᴛᴇɴᴛ
Jᴏᴜʀɴᴀʟɪsᴍ / Cᴏᴍᴍᴜɴɪᴄᴀᴛɪᴏɴs / Rᴇᴘᴜᴛᴀᴛɪᴏɴ
How people learn about corporate social responsibility efforts. And judge them. (MarketingCharts) Keep in mind that this is during a time when the public trusts companies less and less.
Some businesses, concerned about unreliable social-media personalities, are turning to their own employees and customers to serve as brand ambassadors. (The Atlantic) Which is really what they should be doing in the first place.
Speaking of social media personalities, Urban Outfitters is selling a crop-top and leggings combo that it is calling an "influencer costume" this Halloween. Add Fila sneakers, a canvas cap, and a platinum blonde wig, and you too can be an influencer for just $155. (The Verge) Hey, maybe you'll get a contract worth thousands with a brand!
---
Retail Apocalypse
Humans are a transactional species, and the practice
—
if not the very notion of what retail is
—
is undergoing a historical metamorphosis.
---
SPONSOR
---
Platforms
News to know about relevant social, virtual, and augmented reality platforms that may affect your business.
More Millennials and Gen Z are using social media apps. But their use is largely visual in nature: YouTube, Snap and Instagram are their weapons of choice. (eMarketer)
Overall, the use of the Internet, social media, and digital devices has plateaued as they have reached near-saturation levels. (Pew Research Center)
Fᴀᴄᴇʙᴏᴏᴋ / Iɴsᴛᴀɢʀᴀᴍ / WʜᴀᴛsAᴘᴘ
Tᴡɪᴛᴛᴇʀ
Twitter has launched event pages for TV series that appear 30 minutes before new episodes are broadcast, including hashtags, talent names and handles. (AdWeek)
Oᴛʜᴇʀ
---
Media
The latest in the world of streaming video, audio, and the advertising, pricing and bundling models related to them.
Vɪᴅᴇᴏ
Aᴜᴅɪᴏ
And don't forget about
The Full Monty podcast
, our own 5-minute weekly business commentary.
Privacy / Security / Regulatory
Business disruptions in the legal, regulatory, and computer security fields, from hacking to the on-demand economy and more.
Pʀɪᴠᴀᴄʏ / Sᴇᴄᴜʀɪᴛʏ / Hᴀᴄᴋɪɴɢ
Rᴇɢᴜʟᴀᴛᴏʀʏ / Oɴ-Dᴇᴍᴀɴᴅ Eᴄᴏɴᴏᴍʏ
Measurement / Analytics / Data
The future is not in plastics, but in data. Those who know how to measure and analyze it will rule the world.
---
Mental Nourishment
Other links to help you reflect, improve, or simply learn something new.
---
Do you like what you see here?
Please subscribe
to get essential digital news, hand-curated, and delivered to your inbox each week. And why not share this with some colleagues?
---